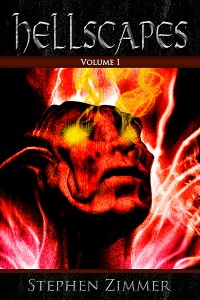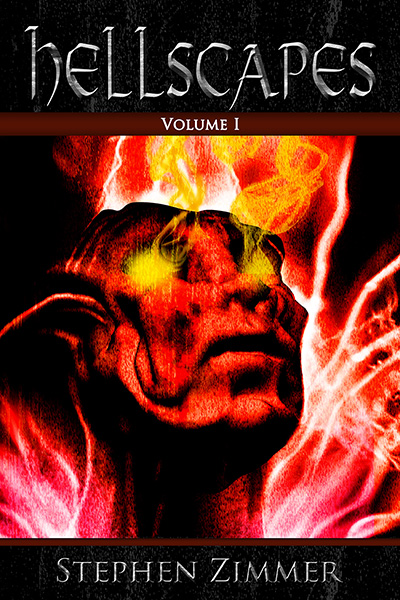 Synopsis: Journey into realms of darkness and explore the regions where angels fear to tread! Welcome to the Hellscapes, featuring tales of the infernal in settings where the horror never ends and the inhabitants experience the ultimate nightmare.
In "Blood Dreams" follow the tale of a woman who knew great political authority and influence in life, as she discovers the reward awaiting her in the next world.
"The Grove" welcomes a new arrival, a wealthy man who is looking forward to a weekend of indulging in lust and libation, as he has for many years in this secluded convocation for the elite. Something is different this time, though, and he soon finds that his visit will be taking a very different turn.
In "The Smallest Fish", the story is told of a ruthless business mogul who finds himself in an abandoned, ruined version of the city he knew well, in life. This city won't be remaining vacant for long.
"Drowning in Tears" tells the story of a young man's unhealthy obsession for a suicidal girlfriend that leads him on a path of severe transformation.
The final tale of Volume 1, "Lords of War", follows the story of a man who wielded military power on a worldwide scale as a Secretary of Defense, who now learns the deeper nature of war and what kinds of monstrosities it breeds.
Hellscapes, Volume 1 is the first release in an exciting new themed horror collection from Stephen Zimmer, the author of the Rising Dawn Saga and Fires in Eden Series.
Review Quotes:
"I had no idea Stephen Zimmer could write horror so beautifully. I was also impressed with his grasp of language in choosing the right words to set the tone and describe the world he has created. There is a poetic flow to the prose that makes you feel as if you are entering an archaic world of nightmares." – I Smell Sheep Blog Review
"The reason I said reading them one at a time is wise is because they truly are frightening. More than one is almost guaranteed to induce nightmares in even the strongest of minds." – Amazon.com Reader Review
"Stephen Zimmer + Horror = Epic From "Blood Dreams" to "Lords of War" …nicely and deviously done." – Amazon.com Reader Review
"A job well done and highly recommended for those who enjoy a bit of creepiness in their reading." – Jess Resides Here Blog Review
"All in all, this was a highly enjoyable read, recommended for fans of highly descriptive horror fiction." – Amazon.com Reader Review
Purchase Links
Print
Amazon.com
Barnes and Noble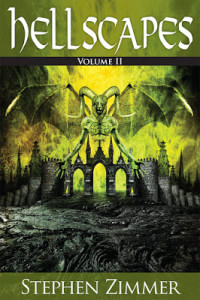 Synopsis: Return to the nightmarish, shadowy realms of Hell in the latest installment of the Hellscapes series by Stephen Zimmer. Six brand new, macabre tales of the infernal await you … but be that you only visit these realms, you do not want to share the fates of the inhabitants you will encounter!
Included in the pages of Hellscapes, Volume II:
In "The Cavern", a man finds his way into a nightmare, subterranean world that leads to an even greater, and more devastating, revelation.
A police officer takes pleasure in violently executing his duties and it appears to be open season in "The Riot" when he is part of an operation sent to crack down on a gathering of people protesting an economic summit nearby. But this is an operation that is going to take a very different kind of turn, one that opens his eyes to a new reality.
A woman finds herself stranded on a high, rocky ledge, along with many other men and women, surrounded by a frothing sea in "Above as Below". Shadows glide beneath the surface and soon she will discover what lurks within the depths.
"Spots Do Not Change" tells the story of a man who has never had any qualms lying, cheating, or deceiving the women in his life. A reckoning day looms as he comes to understand that his actions have harmed the lives of many others, actions that in the realms of Hell take on forms of their own.
Having spun webs of intrigue and personal destruction at the heights of national politics throughout his life, a man finds webs of another sort to present grave danger when he finds himself lost within a strange wilderness in "Weaving Webs".
Many are drawn to "The Club" in the heart of the decaying, shadow-filled city of Malizia, hoping for some entertainment and release, or even safety from the monstrous dangers lurking in the darkness. One man struggling against amnesia finds his way to the seemingly popular establishment and its confines give him momentary hope; until he discovers the nature of this night club and those who run it.
Review Quotes:
"Shiver….. Stephen Zimmer has released another chilling volume of his Hellscapes series just before Halloween. First let me say Stephen Zimmer is a master of modern horror." – Reviews by Janie Franz
"All six were distinct and memorable. Chilling, gory at times, and thought provoking." – Bee's Knees Reviews
"If you want Halloween type thrills, wicked turns, and hideous monsters that aren't friendly to humans, this is definitely the anthology for you. 5 Stars for scaring me to death and giving me nightmares! I loved every minute of it." – Other Worlds Pulp
Purchase Links
eBook
Kindle
Kobo
Nook
iTunes